Project by: Chenhao_Luo, Angelina_Zhang, Muwen_Li
In research of the concept, "Bonificare", the reclamation of land in the Maremma area, the project aims to diagnose the site through the lens of Industrial Development. The video displays an expansion of understanding beyond the factory itself and towards the territorial scale of happenings under the Fascist regime. The project aims to explore this topic from three different scales: National Scale, Regional Scale, and Town Scale at the beginning stage.
With this understanding, even if each bonification brought some benefits whether economically or politically, none of them really think about the way to bonifica the ecological system in the area and now it becomes an abandoned land. The project ambition is to re-imagine the toxic post-industrial super block, the site with a rich history of constant fluctuation and human manipulation.
Therefore, the project's ambition is not to restore the land to its pristine state but to re-establishing the connection between ecology and humans.
The method of re-definition is through bioremediation. Which is the employment of living organisms in the removal of contaminants, pollutants, and toxins from soil, water, and other environments.
As such, the project will serve as an apparatus to conduct different methods of bioremediation on site while also being an experiential laboratory that welcomes observers to participate through the process. The goal is not only to remediate the immediate site, but also to provide spaces to regenerate minds through spatial experiences.
The project does not propose a traditional ecology lab that involves white-coat lab workers to conduct research only through test tubes and petri dishes. Instead, the goal is to liberate the researchers from the role of inscription devices and instead transform them to the participants of the remediation process by magnifying the experimental grounds to a typology scale.
Space of Experiment vs. Space of Experience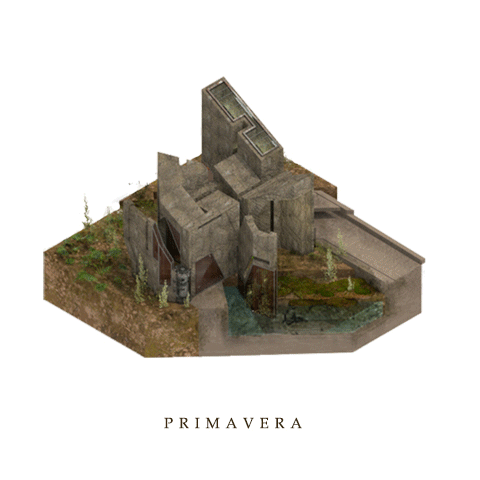 Phytoremediation Laboratory - A systematic experiment that secure, control, and bonifica the existing site.
Screenshots from Sketchfab model above.
Bioremediation in Micro Scale - Bacteria
Bioremediation in Extreme - Freezing Ground